Let´s make celebrating love fully inclusive; not just on Valentine´s Day but all year round.
Did you know that the name is derived from Latin 'valentia' meaning strength or capacity?
14 February is often disliked by singles, people in unfulfilling relationships and happy couples not conforming to stereotypical norms alike.
In recent years we have seen the rise of #galentines celebrations – female friends gifting one another to express their non-romantic love. It´s a step moving forwards.
But there is still untapped potential for the gift and greetings industry to offer options outside of heteronormative clichés. We also have to do more than rainbow prints if we mean equality for the LGBTQ+ community.
#loveislove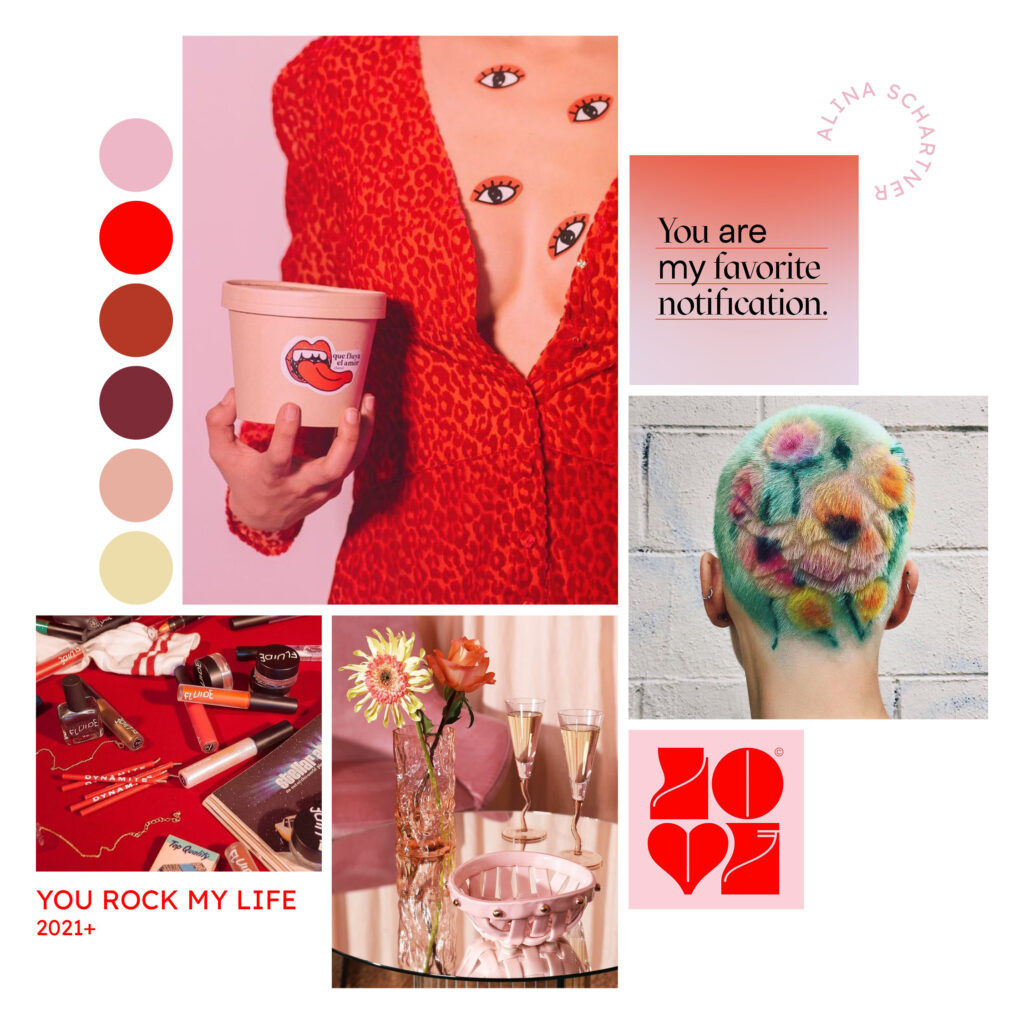 'MON AMOUR' inspires us to think outside the box of gender assigned designs. This mood board gives romantic love between men a voice. However, the imagery is chosen to be welcoming to all; men, women, non-binary people with all their sexual preferences. Conceptions of female and male colours are challenged. Mauve tones, deep blues and reds ooze sophistication, whilst a pop of bold red amplifies the contemporary edge of this dreamy story.
'YOU ROCK MY LIFE' shouts out loud for love in various forms – from passionate and sexy to amicably asexual. The mood board opens us to the idea of gifting loved ones regardless if we are in a romantic relationship or not. Messaging is fun and cheeky. Gentle pinks – playing with warm and cool undertones – serve as background colours for clashing reds. Soft yellow adds an element of surprise in this vastly monochromatic colour scheme.
Have you noticed, that some of the nuances also feature in other trend stories I have created for 2021+? Using overarching colours ensures different collections work with each other. This approach is more sustainable, as it´s easy to integrate stock that did not sell the following season/year. If your brand values seasonless design then you will notice the benefits of smart colour combinations even more.
Send an e-mail to hello@alinaschartner.com to talk about how I can inspire your brand on design and colour direction or finding the right narrative tone.
Image sources clockwise from top left: MON AMOUR Hotel Deux Gares designed by Luke Edward Hall 〰️ Jil Koehn 〰️ Hotel Il Palazzo Experimental 〰️ Lex Pott 〰️ Théo Tourne 〰️ Lottie Hall Stuio YOU ROCK MY LIFE Guía oca 〰️ Consches 〰️ Janine (Cortez) Ker 〰️ Kissmiklos 〰️ &k amsterdam 〰️ Fluide Beauty