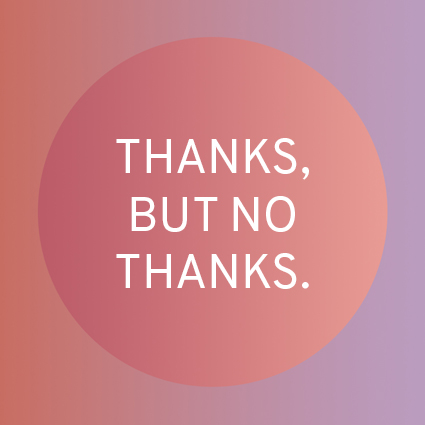 Sometimes you just have to say no. And if you're working in the creative industries, chances are high you need to say no more often than many others during the span of your professional life. The Corona crisis has hit designers and innovators particularly hard. Many creatives are now struggling, even more, to get fair pay for their work. Panicking, they then often accept too low pay. In the long run, this is diminishing their prospects. What can we all do for a thriving creative industry?
Creativity and expertise deserve fair pay.
When you are a creative, many people you meet assume, that the work you do is always fun, or at least fulfilling and that you love doing it for the sake of it. After 13 years in the creative industries, I can confirm, that a disproportionately high number of creative professionals are extraordinarily passionate about what they do. Often overlooked is, that what they do is still their job and thus they need to earn money. After all, no one can pay for their living with verbal appreciation or exposure.
Why is the creative industry comparatively underpaid? Why is it assumed, that creative work should be done for free?
Many people working in the creative industries are not paid particularly well compared to their skillset, the level of education they have acquired to reach their position and the hard work they put in, to find work that values their time and effort. Reasons are manifold, however, there are three main points to consider:
Supply and demand
There are simply more talented people out there willing to work in the creative industries than there are actual paid positions available. However, there is much more work done, than is paid. Read more on this further below.
Self-fulfilment needs
Many people working in the creative industries are placing more importance on personal fulfilment then monetary goals. Referring to Abraham Maslow, creatives over-index in the top of the 'Pyramid of Needs'.
Creative work is often seen as a bonus
Despite the well-studied fact, that the majority of consumers invest in the most attractive product for them within their budget, it is still a widespread belief, that creative work is secondary to technical aspects of product design. Good design needs empathy, creative thinking, knowledge, visualisation skills and technical abilities. In this order. Why is this not reflected in the price paid for creative work?
Here are eight suggestions for what we can do as creative businesses/professionals to create fair working conditions for all creative professionals:
1. Pay interns.
Equal opportunities for people of all colours and backgrounds are often a problem related to the pay gap between men and women (and all non-binary people) and/or racial/ethnic/social discrimination. These issues already affect interns. Poor young adults and many counted to the 'middle class' can not afford to do unpaid internships and will, therefore, most likely never receive the same chances in the future. They also have fewer opportunities to focus on their studies during their education, as they often have to work side jobs to finance their education.
Do you own a business? Take responsibility and start paying interns, regular staff and freelancers a fair living wage for the area your business is located at. If you can not afford that, then you should not ask someone else to get the work done for you. Should you make a profit from the pay you owe others?
You think this does not apply to you, as you own a start-up or are just expanding your business? You would like to pay more, but you just can not? Is it fair for someone else to pay the price to build up your business? Be honest with yourself. Would you do the work you are asking for, for the price you are willing to pay if it was not your business? As a business owner, it is your job to provide funding for all the work done in your business.
2. Stop discrimination.
I am happy to see many global and local businesses now showing solidarity with the Black Lives Matter and LGBTQ+ movements. It has long been overdue that marginalised groups are afforded the same opportunities and justice. A fact is though, that in many regions there will be no applicants, that can be considered 'black', 'coloured', 'non-binary' etc. Often as a result of a lack of opportunities, but also because of demographical reasons. For instance, in my native Austria, there are only about 2% of the population, that can be considered as not 'white'. The number of people discriminated is much higher though. See the bigger picture. Are there any applicants you have consciously or subconsciously discriminated previously? This can happen, but you can change that right away.
Just give all young, aspirational applicants a fair chance to make a living with their chosen profession, when you choose them for an internship or junior role. Interns are young professionals in education. An internship is not a school work experience week. Remember, the lower the monetary benefit, the more value you need to offer your interns.
3. Make more jobs available for graduates.
Also, stop fake internships. Graduates are not interns. If you want the skillset of a young professional, show them the respect they deserve and do not offer them an internship, but a fairly paid junior position. Everyone has got to start somewhere. Do you remember the person, that gave you your first real chance at work? I bet you do.
Now, maybe you have had to go through many unpaid and/or underpaid internships/first jobs yourself to get to your current position? I feel with you, but this should not hinder you to make your workplace a fair workplace.
4. Say no to underpaid work.
Recently, I was asked if I was interested to work on a project for my portfolio after I turned down a job offer. This is the polite version of saying for free. I was head-hunted of that same person for a different project due to my experience. The reason I did not consider a collaboration was, that my hourly fee was not matched. I am open to negotiating a package price, but I am not open to offer my senior expertise for the fee of a junior design consultant. Would you, unless it was for a charity? This, however, was supposed to be CMF work on the future of transport systems. Say no to work that does not pay enough for your level of skills.
5. Say no to unpaid work.
This is not a one-off experience though. Earlier this year, I had conversations with a well-established design blog for me to conceptualise, write and edit articles for them. My ideas were welcomed, but I had to ask the blog´s founder twice, how much would be paid per finished article. When he finally got around to answer it was: 'We don't pay contributors unless they bring advertorials. We give them access and visibility in front of millions of readers :)' First of all, access and visibility do not pay my bills. Secondly, this publication does not reach an audience of this size. On top of that, some of my ideas were subsequently used of the blog after I told the founder, that I will not work for them for free.
6. Say no to work for your portfolio.
Occasions like these are standard for creative professionals all around the globe, especially, when they are/identify as female. One of the highly skilled people in my network from New York told me in our last video call, she has similar experiences. And ever since the outbreak of Covid-19 it gets worse. Recently, she was approached three times by different brands if she was interested in developing a colour concept for them for free (you guessed it, for her portfolio). Why would a design consultant with 15 years of professional experience in international colour trend forecasting need a project for her portfolio?
7. Know what your work is worth and demand it.
I love my job. But no matter how much I love my job, I am the only person responsible for providing for myself. Maybe this is not the case for you, maybe you receive financial support, maybe you inherited wealth, maybe you made enough money previously and you can afford to work for free. Please realise though, that this is not the reality most people find themselves in. If you work for free – unless it is for charitable reasons – then you effectively make it harder for everyone who needs to earn money with their work. Do you think that is okay?
No matter what position you find yourself in: Know what your work is worth, acknowledge that people need to make a decent living and do not settle for less. Even in times of Covid-19. This is self-care and the behaviour needed of all of us if we want a healthy industry to work in. If you personally don´t need the pay, donate it to people who do need money. Let us help each other in these tumultuous times instead of exploiting desperation.
8. Support each other.
Feel free to drop me a line if you have interned on any of the teams I worked with or if I was your coach/manager/mentor. I can write an honest recommendation for you on LinkedIn, as I am aware everything has gotten even harder for people at the beginning of their career these days. What can you do to make your industry inclusive and fair?