reThink stands for a humane use of colour which is easy to implement.
With reThink we are providing designers and architects with a 15-part colour space as a tool for future-oriented designs. The shades selected are very well-suited to product design/architecture and flexible so they can be adapted to a range of requirements.
The complete PDF of the current issue can be downloaded HERE.
Borders are increasingly blurring between our private and professional lives, action and regeneration, global and local issues. We therefore want to provide suggestions for designing these new interpersonal living spaces through corresponding colour combinations. We call the confrontation with the current topics of our times – in particular how we want to live and work in the future – and their colours reThink. The result is a colour world with the challenge to all designers to integrate it into their projects: CREATE!
The colours selected for this are based on the observation and analysis of social, technical and design trends over the last 50 years until today. However, the colour spectrum developed also refers to basic design categories and detailed studies regarding colour effect and colour perception. In addition to the visual function, the focus is also on the combination with sensual perceptions and cultural meanings of colours.
Our goal was not to define fixed trend colours, but to develop a current to sustainable colour profile, which creates design possibilities instead of reducing them.
The colour language of reThink has an inspiring and at the same time grounding effect. In a world view that increasingly appreciates sustainability, an easy combinability and longevity become key requirements for design. 
reThink encourages the creation of spaces and products that create long-term added value. The colour range invites you to feel, think, rethink and combine freely. Polarities – such as natural/artificial or monumental/filigran – complement each other in this unobtrusively inspiring colour space. Together with the RAL Design System plus this colour space is integrated into a complex colour system and can easily be expanded.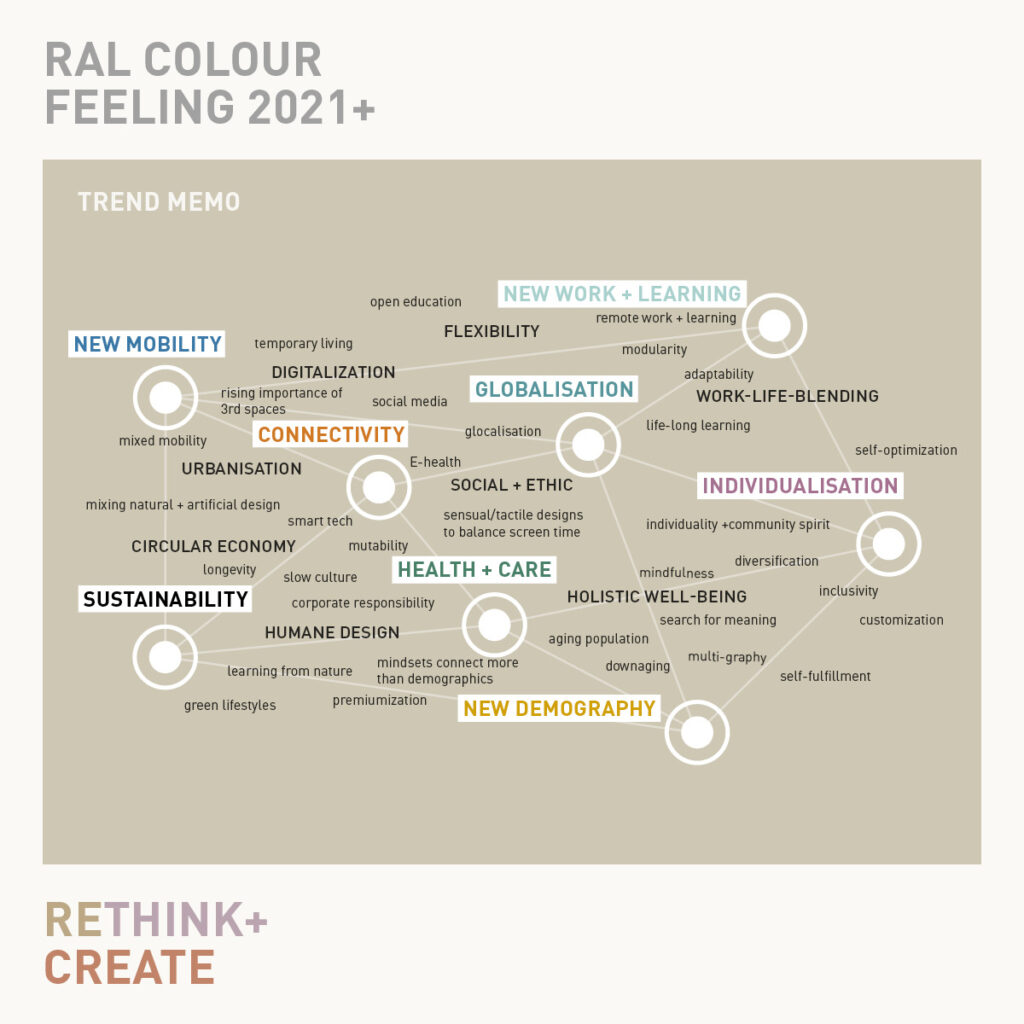 reThink is the impulse for a society where empathy and humane objectives are important. Wisdom from earlier cosmopolitan eras, such as the Renaissance, is combined with visions for a better future. In a networked and unpredictable world, we see an increased orientation towards values of mindfulness and holistic prudence.
The Slow Culture movement, which has grown out of the megatrends of neo-ecology, health and a new culture of knowledge, is focusing on greater appreciation of resources in the long term. Creativity and a creative drive are combined with a growing holistic sense of responsibility on a global and individual level.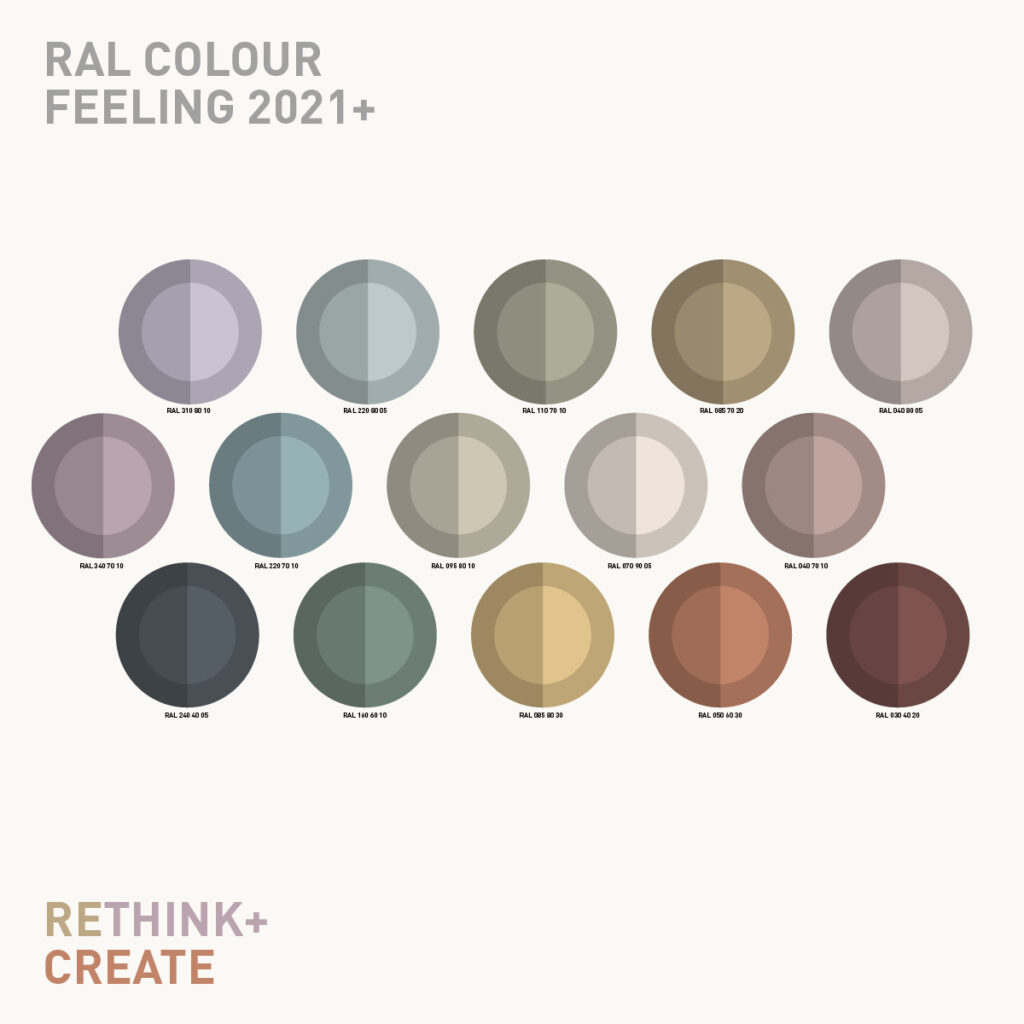 Appealing colours and sensual surfaces create a positive relation to our surroundings.
Subtle, variable colours and sensual surfaces create a balance to the digitalization and sensory overload of everyday life. The range is characterized by a reserved, changeable colourfulness. Matt shades reminiscent of lime paint and chromatic shadowy tones create versatile applicable harmonies. Selected shade-in-shade combinations modulate empty spaces discreetly.
Thanks to mainly light to medium tonalities, the overall impression is light and yet solid. Materials inspired by clay, stone, loam and sturdy plasters provide strength and sensitive textures. By using light, transparencies and soft graduations an airy atmosphere is created. Despite being unobtrusive, surface and product designs appear imaginative, personal and approachable.
I was one of the CMF specialists, trend forecasters and also one of the two main editors on this project. Really loved this collaboration with RAL colours and IIT Institute International Trendscouting. All work was done fully remote. To guarantee colour accuracy, we all used RAL Design System plus original samples. Well done team!
We work globally and care about colour education: The trend report is available in English, German, Chinese, Spanish, French, Russian or Dutch for free. Share this info with anyone who should know about it. You can even download the colour palette as .ase files to easily integrate them into your digital workflow.
Head over to www.raldesignplus.de/en/colour-feeling for insight, colour inspiration and the download links.